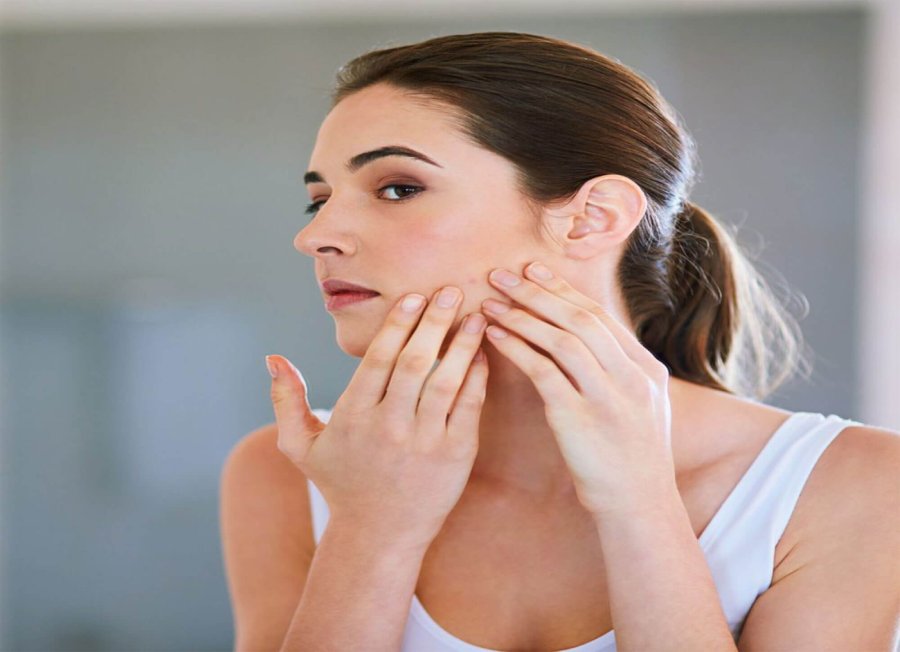 Get the Most Reliable and Result-orientated Acne Scar Removal Treatment
Acne Scar Reduction Overview: Treatment, Procedure, Benefits, Types, Cost, and FAQs
The major side effect of acne is acne scarring. In most cases, the scars are often permanent and are characterized as deep pits that provide uneven skin texture. Acne can appear in the form of pimples, blackheads, cysts, papules, nodulocystic acne, whiteheads etc. So, when people try to squeeze out the acne this causes more damage to the skin and results in inflamed skin, formation of dark spots and scars. The scar is composed of fibrous tissue, and they appear and feel different from normal skin because the scars are composed of cross-linked collagen (to heal the injury) molecules that form the unidirectional alignment. Acne scars often cause emotional discomfort and long term psychological impact on an individual's confidence and self-esteem.
Different types of acne scars
1. Atrophic scars
They are responsible for causing hyperpigmentation and provide a sunken or pitted like appearance. These scars are formed when enough collagen is not produced. These can be further divided into:

1.1 Rolling scars
Appear as depressions and are mostly rounded with sloping edges.

1.2 Ice pick scars
Narrow, deep scars that are V shaped in appearance. 

1.3 Boxcar scars
Round or oval-shaped and most commonly appear on cheeks and temples. Their depth ranges from shallow to medium, and they also have well-defined edges. They resemble chicken pox scar.

2. Hypertrophic and keloid scar
They form as a result of more collagen production at the site of the inflammation, and they often appear as raised and pigmented in appearance. They form as a result of too much collagen production and most commonly occur in the body area, such as chest, shoulders, back (upper).
Acne Scar Treatments in Delhi
Various advanced techniques and treatments are available that help to treat acne scars. Each type of scar requires a different treatment. These treatments help one to achieve better skin health by diminishing the appearance of scars. 
Treatments for Ice pick and Boxcar scars
Dermabrasion

Laser resurfacing

Chemical peel (TCA cross)
Treatments for Atrophic and Rolling scar
Dermabrasion

Dermal fillers

Laser resurfacing
Treatments for Hypertrophic scar
Steroid injections

Topical steroid creams
1. Acne Scar Laser Treatment (Fractional CO2 Laser)
This is one of the most populer Acne Scar Treatments in Delhi Laser removes the top damaged skin layer, and this results in new skin cells production. So, this treatment promotes skin rejuvenation and helps to reduce the appearance of acne scars. The fractional CO2 lasers target the laser energy in the dermis skin layer and stimulate new collagen production. Laser heat also damages the dark skin pigment and hence, helps to improve red or brown acne marks. 
The wound healing boosted by the laser procedure helps to repair the scar tissue, and damaged scar tissue area is replaced by new elastin and collagen-producing cells, and the skin becomes smooth in appearance.
At Clinic Skin Essence, this procedure is done by Dr. Anu Kapoor who is an experienced dermatologist. Patient is given some pre and post procedure guidelines to follow to ensure the best outcome. 
Before the procedure
- Avoid sun exposure and apply a sunscreen regularly
- Avoid retinol based skin products for a couple of weeks 
- Quit smoking for 1-2 weeks 
After the procedure
- Do not rub or scratch the treated skin
- Limit the sun exposure and wear a good sunscreen everyday
- Use makeup/creams only as per the dermatologist's prescription. 
2. Microneedling Radiofrequency 
It is an advanced version of traditional microneedling. Instead of a handheld microneedling (dermaroller) device here we use a handpiece that creates microchannels in the skin and then delivers radiofrequency energy in the dermis layer of the skin. It not only improves the skin texture but also helps in skin tightening.  
3. Dermabrasion
The treatment removes acne scars by promoting new skin regeneration and revitalization as it works in the deeper skin layer. This treatment also unclogs the pores and helps to remove the dead skin cell and excess oil from the skin. So, it is also beneficial in preventing new acne breakouts. 
4. Chemical peel
This treatment stimulates cell renewal using special chemicals and ingredients that help to remove pigmentation and provide a refined and smooth skin. Salicylic acid, TCA, and glycolic acid peel are the most commonly used peels for acne scar treatment.
5. Dermal fillers
Dermal fillers help to treat depressed scars by raising the indentations and fill up the hollows created by acne scars. So, this is quite an effective treatment for boxcar scars and rolling scars.
6. Subcision
It is a great technique to treat the depressed acne scars. It uses a hypodermic needle to break the fibrotic strands beneath the skin. It triggers skin's healing response and also promotes collagen production. Eventually one gets a smooth skin texture. 
7. Dermapen 4 
This works best not only for acne scars but also for surgical scars and stretch marks as well. The dermapen creates very tiny punctures in the skin and improves collagen & elastin production in the skin. It is an advanced microneedling device that allows deeper penetration by causing minimal injury.  
8. TCA CROSS 
TCA stands for trichloroacetic acid and CROSS means chemical reconstruction of skin scars. It stimulates collagen production by triggering an inflammatory reaction on the skin. For better results it can be combined with other scar treatments as mentioned above. 
To know about acne scar removal cost in Delhi, please feel free to contact!
Frequently Asked Questions
Acne Scar Treatment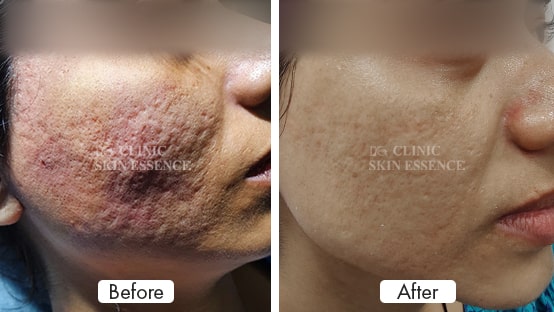 *Opinions / Results may vary from person to person.
Book An Appointment
We are taking full precautions at the clinic against COVID-19. Online and Physical consultations are available to assist our patients.
Book an appointment by calling on the given numbers:
Patel Nagar: 011-47062167, +91 9716686756
Online consultation timings
Monday - Sunday : 10:00 AM to 8:00 PM
Thursday : Closed!