Dr. Anu Kapoor Sharma
MBBS, DDVL, DNB - Dermatology, Venereology & Aesthetic Medicine
Skin Specialist in Patel Nagar, New Delhi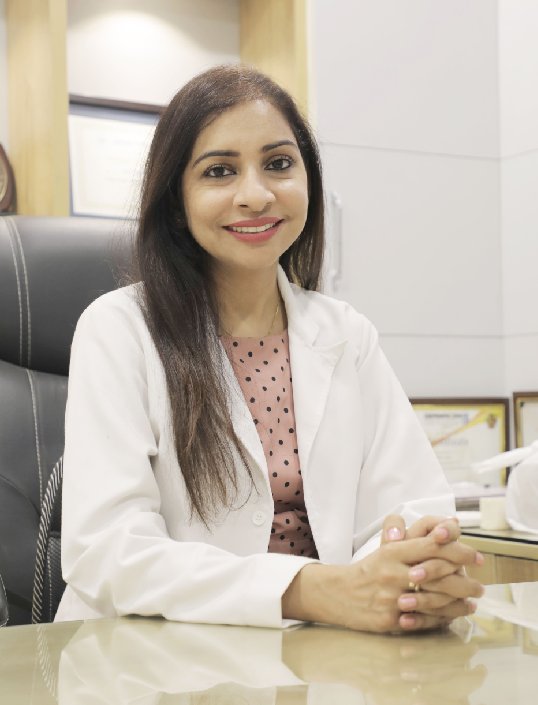 Dr. Anu Kapoor Sharma
MBBS, DDVL, DNB - Dermatology, Venereology & Aesthetic Medicine
Skin Specialist in Patel Nagar, New Delhi
Dr. Anu Kapoor, Skin Specialist in Delhi, started her medical career in 2000 when she joined MBBS at Kasturba Medical College, Manipal University. During her tenure there, she was attracted to Dermatology as a specialty. She did her post-graduation in Dermatology Venereology and Leprology from JJM Medical College Davangere Karnataka in 2007 where she amassed a vast knowledge about skin and hair disorders and their treatments. She developed a strong connection with her patients and learned how to effectively treat and manage a variety of skin problems. Later, she joined the prestigious Post Graduate Institute of Medical Sciences, Rohtak for higher studies. Over there she was drawn towards cosmetic concerns of patients like Acne Vulgaris, Melasma, Hair Loss etc. Dr. Anu also wrote a thesis on the use of chemical peels in acne vulgaris. Her in-depth knowledge enables her to provide optimum results to her patients and makes her one of the most trusted skin specialist doctors in Delhi. She then worked for three years in Dr. BSA Hospital, Rohini, New Delhi in the Dermatology and Venereology OPD where she effectively managed hundreds of Skin and Hair diseases. She also handled Dermato Surgical procedures, Skin lightening treatments, and Acne Peels and Medical Management.

Dr. Anu Kapoor, Dermatologist in Delhi, later joined Kaya Skin Clinic and rose to the position of Senior Consultant Dermatologist. Her special interests include anti-aging treatments including dermal fillers and Anti Wrinkle Injections for Fine Lines, Wrinkles and Face Reshaping. Her passion for giving her patients a youthful, soft and rejuvenated look translates into natural and gorgeous results. She firmly believes that beauty is about embracing your natural looks and looking beautiful for your age. Her pre-procedure counseling sessions as a consultant dermatologist in Delhi, are very elaborate and she hand holds the patient through the entire Anti Ageing procedure and even post that. Dr. Anu Kapoor, skin doctor in Delhi, has performed more than 300 cases of Fillers and her results especially for the cheek augmentation and under-eye rejuvenation speak for themselves. She also does Thread Lifts, Non Surgical Jawline Definition, and Lip Fillers.

At Clinic Skin Essence in East Patel Nagar, New Delhi, she treats her Dermatology and Cosmetic patients with Q switched laser, Peels, Diode Laser for Hair Removal, Growth Factor Injections and many other treatments in her armamentarium. Today, Dr. Anu Kapoor, Skin Specialist Doctor in Delhi, is one of the leading names in the field of Facial Aesthetics and Non Surgical Facelift.
My Profile
Learn more about the doctor and be a part of the journey
Education

MBBS- Kasturba Medical College, Mangalore, Manipal University (2000-2005)

Post Graduation- DDVL From JJM Medical College, Davangere

DNB From Post Graduate Institute of Medical Sciences, Rohtak

Work Experience

Senior Residency: 3 Years of Senior Residency From Baba Saheb Ambedkar, Rohini.

Ex Consultant Dermatologist Kaya Skin Clinic, New Delhi.

Working as Visiting Consultant Dermatologist in Hospital in Delhi.

Memberships and Publications

Was A Scientific Committee Member in National Dermatology Conference.

Life Member Indian Association of Dermatology and Leprology.

Actively Participated and Presented Papers in Various State And National Level Conferences.

Paper Publication in the Indian Journal of Sexually Transmitted Diseases.

Special Interests

Facial Aesthetics Including Anti-Aging Treatments, Cheek Augmentation, Lip Definition and Shaping, Jawline Remodeling and Under Eye Rejuvenation.

Dermal Fillers, Anti Wrinkle Injection, Thread Lifting.

Non-Invasive Modalities for Face Lifting And Tightening.

Melasma And Pigmentation Treatment By Chemical Peels And Q Switched Lasers.

Non-Invasive Modalities for Face Lifting And Tightening.

Awards and Recognitions

Award of Appreciation in Aestheticon - 2014

Award of Appreciation in Aestheticon as Delegate/Faculty - 2015

Attended Workshop on Autologous Fat Transfer, Laser & Hormonal Therapy - 2014
Why Patients choose
Clinic Skin Essence
Advanced and latest laser technology

At Clinic Skin Essence, we are equipped with the most sophisticated and advanced lasers including Q Switched laser for skin toning, Diode laser for hair removal and Fractional CO2 laser for acne scar management. We strive to bring to you the best and world-class technologies for excellent results.

Experienced and patient friendly doctors

Dr. Parmil Kumar Sharma and Dr. Anu Kapoor, being young dermatologists themselves connect with their patients in a friendly and approachable manner. Both the doctors combine their vast knowledge and technical expertise with an underst anding of the skincare requirements of the millennial crowd as well as the older generation to give their patients the best possible results.

State of the art infrastructure

Affordable pricing

Our treatments are not only efficient but pocket-friendly as well

Helpful and efficient staff

Comprehensive skin and hair care available
Book An Appointment
We are taking full precautions at the clinic against COVID-19. Online and Physical consultations are available to assist our patients.
Book an appointment by calling on the given numbers:
Patel Nagar: 011-47062167, +91 9716686756
Online consultation timings
Monday - Sunday : 10:00 AM to 8:00 PM
Thursday : Closed!
Featured Services
Professional and advanced treatments to achieve flawless, radiant skin, body and hair.
Written Testimonials
A

Arun Singh

5google

Having an great experience of hair transplant.excellent service and latest technology used one of the best hair transplat clinic

*Opinions / Results may vary from person to person.
A

Ashish Srivastava

5google

 Best Laser Hair Removal clinic in Delhi as it was Reasonable and Affordable in terms of Price and Treatment, their centre is near to my home East Patel Nagar. I would like to recommend to all the citizen and common people in Delhi, Noida, Ghaziabad, Gurgaon to visit their Hospital.

*Opinions / Results may vary from person to person.
M

Meenakshi Kapoor

5google

 Doctors are extremely courteous and helpful..Thank you for my glowing skin doc..Highly recommended! !

*Opinions / Results may vary from person to person.