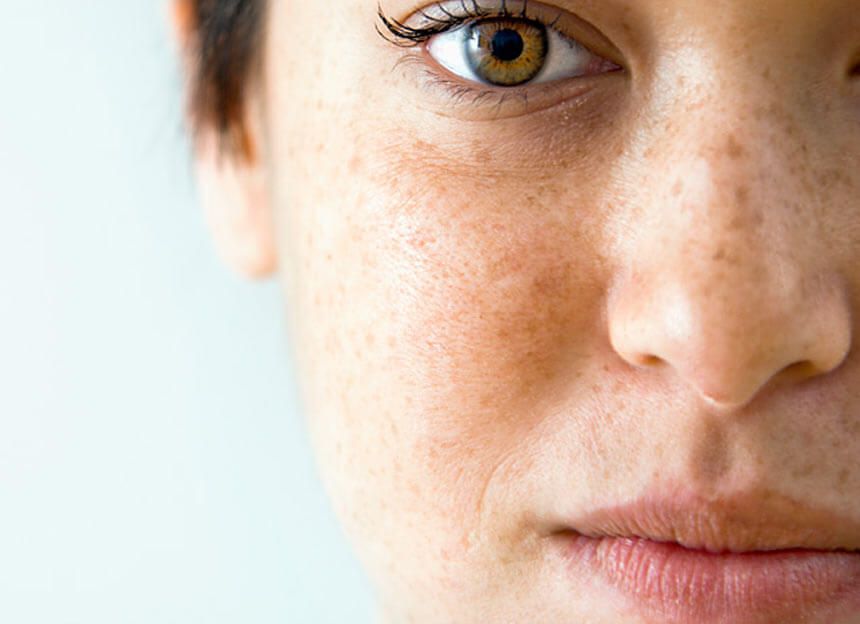 Get the Best Dark Spots Removal Treatment in Delhi
Dark Spots Treatment Overview: Treatment, Procedure, Causes, Diagnosis, Cost, Aftercare and FAQs
Dark spots are formed as a result of extra pigment build-up due to excessive sun exposure, acne, hormonal changes (pregnancy), stress, insect bite, healing of injury, smoking etc. Dark spots are most common in people with medium to dark skin tones. Melanin is a major pigment that is responsible for providing color to the skin. So, the overproduction of melanin causes dark spots formation. Dark spots can cause cosmetic concerns in many people as it can affect their appearance and confidence level. Dark spots appear darker than the normal skin color and provide uneven skin tone. The dark spots mostly occur in the body areas that are most exposed to sunlight on a regular basis like face, arms, neck, hands, and back.
Causes of dark spots formation
Acne

Burns

Freckles

Wounds

Waxing

Bug bites

Linea nigra

Liver disease

Inflammation

Harsh scrubbing

Pituitary tumors

Addison's disease

Medication side effects

Erythromelanosis follicularis

Diabetes and acanthosis nigricans

Sun exposure (UV rays and free radical damage)

Skin problems like psoriasis and contact dermatitis

Melasma (skin condition is most common in women during pregnancy)

Allergic reaction to certain skincare products like shampoos & makeup
Diagnosis for dark spots
Physical skin test

Blood test

Skin biopsy test

Patch type test
Dark spots may appear as light brown to dark brown colored patches on the skin. Color of the dark spots may vary from person to person depending upon the skin tone. Spots in people with dark-toned skin are a few shades darker than normal skin tone or shadowed or patchy. People with light skin tone suffer from problems like freckles and sunspots.
Treatments for dark spots
Dark spots do not cause any serious health hazard. However, many people opt for treatments due to cosmetic reasons and to get a brighter and even toned skin.
The right treatment for dark spots can vary according to the cause, size, and area of the spots in the body. Following are some of the most commonly recommended dark spot treatments:
1. Laser Toning
As the name suggests this treatment uses laser light pulses that are very powerful to enter deep inside the skin surface. The laser light and heat break down the dark pigmented spots into small particles, which are further removed from the body's immune system naturally. The laser also boosts collagen production and makes the skin look plumper and healthier. It also promotes new skin cell production and diminishes scars.
Laser therapy gives beautiful and brighter skin by removing dark spots on the face, hands, neck, legs, and other affected body areas. This therapy is known to provide long-lasting outcomes with successive sessions. It does not leave any scabs after treatment and gives improved skin texture and tone.
2. Chemical peels
There are three types of peels lighter, medium, and deeper that are used according to the requirement of the skin. Salicylic acid, glycolic acid, and TCA peels are the most common peels that help to reduce the dark spots.
3. Carbon laser peel
This is a non-invasive and painless method that improves skin tone and texture. A layer of carbon-nanoparticles is applied to the skin layer. This carbon peel absorbs dirt, toxins, excess oil from deep inside the skin pores. In the next step, a laser beam is triggered on the skin, and this causes the breaking of these carbon particles, and the absorbed dust particles, pigmentation, scars, acne-causing bacteria are also removed with laser heat. The heat of the laser beam causes the production of new skin cells, shrinks enlarged skin pores, promotes new skin cells production, and also helps to manage active acne. The skin regeneration with this treatment takes place by boosting the production of collagen and elastin fibers.
4. Microdermabrasion
In this treatment, a unique tool that has an abrasive edge is used. This tool is helpful for the removal of the topmost layer of the skin. This treatment allows the growth of new collagen that results in reducing the spots. It is a non-surgical treatment and renews the skin tone and overall skin texture. This is safe for all skin types and effectively helps to reduce acne scars, sunspots, age spots, dark spots wrinkles, and other aging signs.
5. Mesotherapy
It is an injectable treatment that delivers skin lightening agents such as vitamin C, kojic acid etc. Multiple sessions may be recommended. Great results can be seen within 3-4 sessions. Effective for treating melasma, freckles, post-inflammatory hyperpigmentation and so on.
6. Glutathione supplements
Glutathione is a powerful antioxidant so it protects the skin against free-radicals and oxidative damage. It is a natural substance that is produced by the liver. Glutathione works against tyrosinase which further inhibits the production of melanin (dark pigment) in the skin. It can be combined with other antioxidants like vitamin-C and can be utilized either topically or orally.
Aftercare
Avoid direct sun exposure after treatment

Avoid rubbing and scratching the face

Avoid applying cosmetics and makeup for about 24 hours

Stay hydrated

Apply sunscreen with more than 30+ SPF and protect the skin from UV rays damage
Frequently Asked Questions
Book An Appointment
We are taking full precautions at the clinic against COVID-19. Online and Physical consultations are available to assist our patients.
Book an appointment by calling on the given numbers:
Patel Nagar: 011-47062167, +91 9716686756
Online consultation timings
Monday - Sunday : 10:00 AM to 8:00 PM
Thursday : Closed!