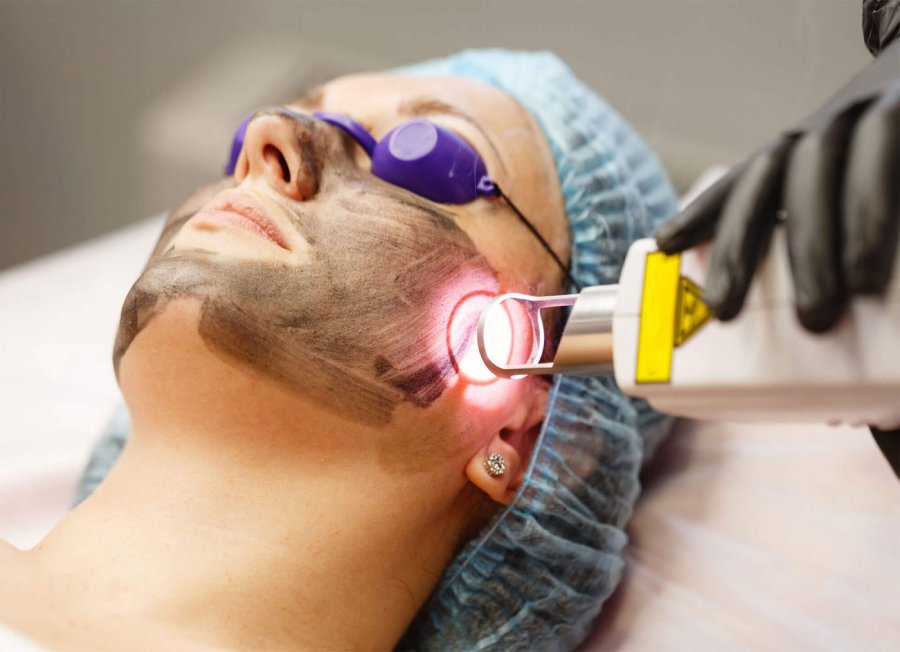 Carbon Laser Peel in Delhi for oily and Acne Prone Skin
Carbon Laser Peel Overview: Treatment, Procedure, Benefits, Real Results, Cost, Aftercare and FAQs
Carbon laser peel is a mild exfoliating and skin resurfacing procedure. This treatment effectively improves the skin tone by correcting pigmentation issues and also reduces the appearance of wrinkles, fine lines, and enlarged open pores. This treatment effectively reduces acne and inflammation by controlling the production of sebum in the skin.So, it can greatly benefit people with oily skin, enlarged pores, acne, and dull skin.
In this method, the layer of liquid carbon is applied to the skin that further penetrates deep inside the skin. A carbon mask is a medical mask that is made up of mineral mud of volcanic rock. The carbon mineral-rich lotion acts as a photo enhancer, and also helps to remove all dirt and impurities of the face. The carbon is rich in vitamins, minerals, and amino acids that help to make the skin look glowing, radiant, and hydrated. Once this liquid carbon mask is dry, a Q-switched laser is used to vaporise this mask. The laser application feels like a pinprick on the skin, but it is not painful or uncomfortable. The state of the art Q switched ND YAG lasers deliver short rapid and high-intensity pulse of laser light that helps in the destruction of dirt, toxins, and bacteria present in the clogged pores. It also removes the dead upper skin layer. Laser light removes the contaminants that are absorbed by the carbon mask. The final result is clear, glowing, even-toned, plumper, and uniform textured skin.
A series of 5-8 sessions of carbon laser peels are recommended to achieve the best results. The treatment can be repeated every month, as this helps the skin to maintain its glow and radiance.
Benefits of carbon laser peel
Safe for all skin types

Promotes skin brightening

Provides with an even-toned skin

Helps to remove acne scars and dark spots

Helps to improve skin texture and elasticity

Less time taking and safe procedure

Helps to restore youthfulness

Shrinks enlarged open pores

Decreases excess oil production and helps manage acne

Improves blood circulation and healthy skin cell growth

Removes dead skin cells, blackheads, and whiteheads

Lasers also stimulate the production of collagen and make the skin look plumper and radiant
Post-procedure care
The skin should be properly moisturized daily

Avoid sun exposure and always protect the skin from sun rays by applying a broad-spectrum sunscreen

Avoid using makeup and cosmetics for about two days

Drink plenty of water
Frequently Asked Questions
Book An Appointment
We are taking full precautions at the clinic against COVID-19. Online and Physical consultations are available to assist our patients.
Book an appointment by calling on the given numbers:
Patel Nagar: 011-47062167, +91 9716686756
Online consultation timings
Monday - Sunday : 10:00 AM to 8:00 PM
Thursday : Closed!