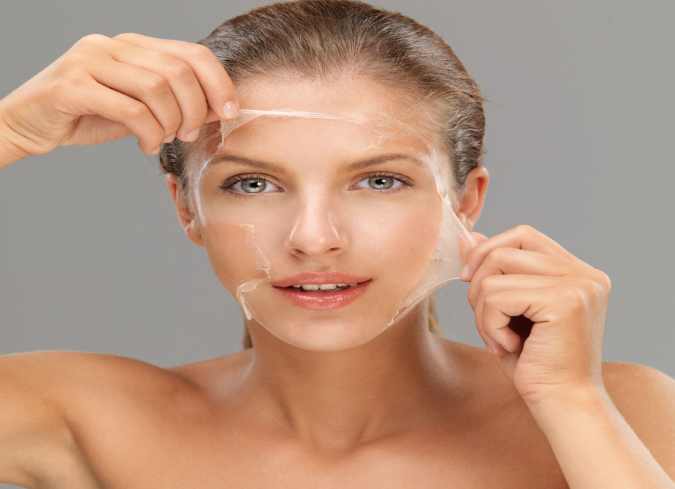 Improve Skin Tone and Texture by Getting the Best Chemical Peel Treatment in Delhi
Chemical Peel Treatment Overview: Treatment, Procedure, Types, Side Effects, Benefits, Cost, Aftercare and FAQs
A chemical peel is used to enhance the appearance of the skin of the face, neck, and hands. This technique is a type of exfoliation and skin-resurfacing that provides an improved and youthful skin tone. In this method, some selected solutions are applied to the skin for exfoliation and peeling off. It results in a lighter (remove pigmentation), less wrinkled, plumper and smoother skin. This technique is appropriate to treat skin-related issues such as acne, discoloration, sun spots, acne scars, pigmentation concerns, and so on. The chemical peels can enter in the different layers of the skin, and treat the target concern at the deepest layer by removing pigmentation and boosting collagen and elastin production. The solution exfoliates the damaged layer and eventually peels off. With chemical peel treatment, the new skin is smoother and younger-looking.
Types of chemical peel
1.Superficial Peel
In this procedure, the topmost layer of the skin is affected by peeling (exfoliation) which promotes new skin cells production. Solutions used in this method are Salicylic, Mandelic, Alpha Hydroxy, and Glycolic acid that can treat skin concerns like hyperpigmentation, acne, fine lines, wrinkles, and melasma. This type of peel is mild and has no side effects, and provides with a rejuvenated look, in the areas like face, neck, and chest.
2.Medium Peel
In this procedure, the second layer of the skin is targeted. This method treats acne scars, wrinkles, and uneven skin tone. The most common medium peel composition includes Trichloroacetic acid (TCA) or Glycolic acid that penetrates through the deeper layer of the skin than several other acids. It removes pigmentation and boosts collagen production.
3.Deep peel
In this procedure the lower area of the second most layers are removed through penetration. Chemical peels including Phenols or Trichloroacetic acid are used for treating deep wrinkles, acne scars, pigmentation, and sun-damaged skin.
Patients suffering from the following skin concerns are considered ideal candidates for chemical peels:
Melasma
Active acne
Acne scars
Hyperpigmentation
Fine lines
Sun-damaged skin
Age or liver spots
Rough skin and scaly patches
Who all cannot avail this treatment?
It is not an ideal procedure for people with autoimmune disorders, eczema, and other allergic skin problems.
Individuals taking medication for cold sores are not suggested to undergo this treatment.
An individual with a history of keloid is not an ideal candidate for this treatment.
Procedure
Before starting the procedure face should be thoroughly cleaned and eyes are kept covered. Hair is also covered or protected.
1.Light Peel
   A peel is applied by using a brush, gauze or cotton ball. Salicylic acid or glycolic acid is used for peeling. The patient may feel mild stinging during this procedure. To remove the peel a neutralizing solution is applied to the treated skin and then sunscreen is applied.
2.Medium Peel
 A peel is applied by using cotton or gauze consisting of trichloroacetic acid. The patient may experience burning or stinging for 20 minutes. A cool compress is applied after some time to soothe the treated skin. The treatment makes the skin even-toned and brighter.
Regular sessions (few months apart) of chemical peels are recommended to achieve the best and long-lasting results.
Benefits of chemical peel treatment
This treatment is effective and also improves the production of collagen
It reduces pore size, oil production, and aging signs
It is also effective for treating hyperpigmentation and acne
Less recovery time
Light chemical peel is effective for the improvement of skin tone, texture and impart a party like glow and shine to the skin.
Medium peel is effective in making the skin smoother
Get the best chemical peel treatment in Patel Nagar, Delhi at affordable cost at Clinic Skin Essence.
Aftercare
Patient may experience mild redness,itching and dryness swelling, and tightening of the skin. After chemical peel treatment one should follow the instructions given by their doctor. Patients should apply moisturizers and other prescribed ointments to the skin to achieve the optimum results. A protective ointment like petroleum jelly is applied for soothing the skin. Painkillers and ice packs are provided to manage discomfort. The treated area will be healed within one to seven days. After the treatment avoid sun exposure and apply sunscreen.  Apply sunscreen to protect the skin from sun damage.
General Post- procedure Instructions
Don't peel the skin off with fingers, and allow the dead skin to fall off naturally.
Avoid strenuous activities for two to three days after the procedure.
Do not apply hair removal creams or bleaching creams on the treated area.
Do not rub or scratch the treated area.
Moisturize the skin with prescribed moisturizers.
Side effects of Chemical Peels
Burning
Itching
Redness
Post-inflammatory hyperpigmentation
The side effects are temporary and will subside within a few days or a couple of weeks after the procedure.
Frequently Asked Questions
Book An Appointment
We are taking full precautions at the clinic against COVID-19. Online and Physical consultations are available to assist our patients.
Book an appointment by calling on the given numbers:
Patel Nagar: 011-47062167, +91 9716686756
Online consultation timings
Monday - Sunday : 10:00 AM to 8:00 PM
Thursday : Closed!