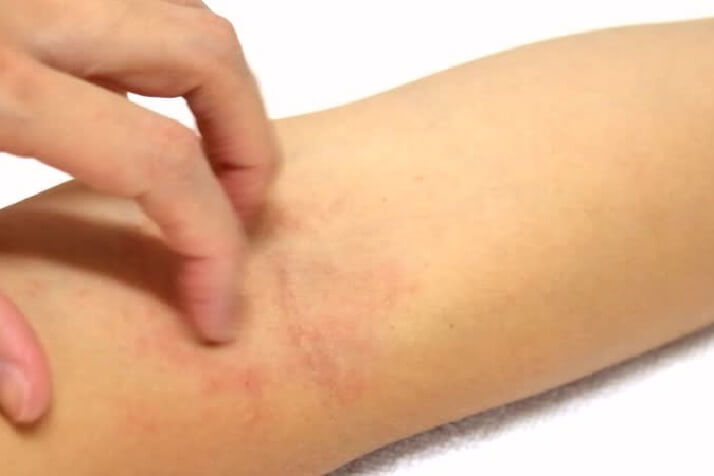 Urticaria Treatment in Delhi
Urticaria Treatment Overview: Treatment, Procedure, Causes, Types, and cost
URTICARIA also known as HIVES is a skin condition characterized by red raised itchy swollen areas which can involve any area of the body. Dr. Anu Kapoor, one of the Best Doctors for urticaria in Delhi, says that the lesions arise suddenly, usually last for 2-3 days, and may continue to recur for indefinite periods. Involvement of the lips, cheeks, and eye area can cause transient swelling known as Angioedema and further worsen the quality of one's life. The persistent occurrence of these lesions affect the daily lifestyle of an individual and hence, skin specialists advice early treatment.
CAUSES
Certain food items can cause urticaria in predisposed patients. Common foods include nuts, chocolate, fish, eggs, tomatoes, etc.

Medications such as pain killers, antibiotics, antiepileptics can cause allergic reactions in some patients.

Specific environmental or physical stimuli such as heat, cold, pressure, vibration, and friction can trigger urticaria.

Infections: Some viral and bacterial infections such as common cold, sore throat, stomach infections can also cause urticarial symptoms.

Others: Thyroid disorders and other autoimmune
Types Of Urticaria
The types of Urticaria as explained by the Skin Expert for Urticaria in Delhi are as follows:
Dermographism: It is the most common type of physical urticaria. It appears as a linear wheal with redness and swelling when the skin is stroked or scratched.

Pressure Urticaria: It appears as red itchy swollen areas which arise after sustained pressure has been applied to the skin e.g. after sitting on a hard chair, under shoulder straps and belts and watches.

Cold Urticaria: Urticaria can occur after exposure to changes in ambient temperature and direct contact with cold objects such as cold water and cold air.

Solar Urticaria: It occurs as itching, redness, and wheals that develop within minutes after exposure to sun or artificial light sources.

Cholinergic Urticaria: This develops after an increase in core body temperatures such as during a warm bath, prolonged exercise, or episodes of fever.

Aquagenic Urticaria: Contact of the skin with water of any temperature may result in itching or urticaria in some patients.
Treatment
At CLINIC SKIN ESSENCE, the evaluation of patients with urticaria begins with a comprehensive history with special emphasis on causes and physical examination. Routine screening lab tests are done. Therapy of acute urticaria uses antiallergics as well as topical soothing lotions. Lifestyle modifications such as maintaining food diaries, avoiding unnecessary drugs are crucial parts of Urticaria Treatment in Delhi. Along with this, any underlying problem is treated. Hence if you are suffering from the urticarial problem, do visit us at CLINIC SKIN ESSENCE for a prompt solution to your concern by the Skin Expert for Urticaria in Delhi.
Book An Appointment
We are taking full precautions at the clinic against COVID-19. Online and Physical consultations are available to assist our patients.
Book an appointment by calling on the given numbers:
Patel Nagar: 011-47062167, +91 9716686756
Online consultation timings
Monday - Sunday : 10:00 AM to 8:00 PM
Thursday : Closed!