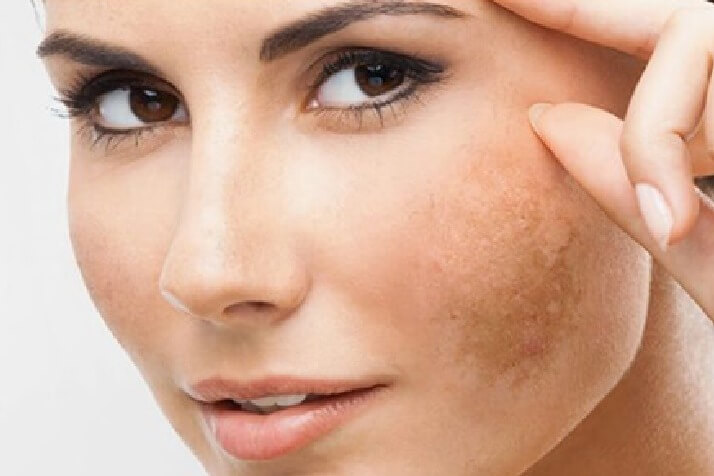 Melasma Treatment in Delhi
Melasma Treatment Overview: Treatment, Procedure, Causes, Factors, Types, cost and FAQs
This condition is also called as mask of pregnancy. This is the most common facial pigmentary condition seen .This condition is characterized by symmetric brown to dark patches with an irregular outline occurring most commonly on the face. Almost 90?ses are women. If you are suffering from melasma or any pigmentary condition, visit us at CLINIC SKIN ESSENCE EAST PATEL for expert opinion and best treatment with Dr Anu Kapoor and Dr Parmil Kumar Sharma.
CAUSES & AGGRAVATING FACTORS
Sun Exposure: There is a significant association of melasma patches with both ultraviolet and infra red rays. This means that the patches can darken or increase in size if you are exposed to the sun rays . Even short exposures can be harmful.

Pregnancy: The hormonal changes associated with pregnancy can trigger melasma for the first time in previously normal women.

Oral Contraceptive Use: The estrogens and progesterons in OCPs can also cause melasma or aggravate it.

Medications: Certain drugs and medications like anti epilepsy drugs, anti malarials and some antibiotics may lead to melasma.

Auto Immune Disorders: Certain conditions like thyroid disorders are also associated with melasma.
CLINICAL PATTERNS
Centrofacial : This is the most common pattern involving forehead, cheeks, nose, upper lip and chin

Malar: involving the cheeks and nose

Mandibular: involving the jawline
Treatment
On your first visit, our expert team of doctors will assess your clinical pattern and depth of melasma patches. Strict sun protection is advised in the form of sunscreens, use of hats, umbrellas and protective clothing. Avoidance of aggravating factors is counseled upon. The treatment of melasma is multi modality and includes medical management as well as skin treatments.
Medical management comprises of vitamin c supplements, topical creams and sunscreens as well as oral whitening tablets. The various treatments available for melasma include:
Chemical peels: This treatment comprises of a gentle exfoliation of the skin by applying certain solutions on the face. We have a variety of peels which are done according to the skin type eg glycolic peels, yellow peels, TCA peels, black peels and many more.

Insta Brightening Laser: This popular treatment consists of a 3 step procedure. At first , a gentle microdermabrasion is done to remove the dead skin cells. This is followed by two passes of our state of the art Q Switched ND:Yag Laser and a collagen mask application. You can see an instantly brighter skin following the treatment and spot lightening is visible.

Mesotherapy: This is a treatment which uses micro infusions of vitamins and skin lightening solutions in the skin to give you a visibly lighter and glowing complexion.

Anti Wrinkle Injections: This includes injections of your own activated platelets in the melasma patches and all over the skin which release certain growth factors and peptides to rejuvenate the skin.
Frequently Asked Questions
This depends on the severity and depth of melasma patches. Long term remission is possible with strict sun protection and avoidance of aggravating factors.
Yes. Sunscreen use is a must even indoors as the infra red rays from LED lights and laptop or mobile screens as well as heat from the cooking stove can also influence melasma patches.
The efficacy of treatment in melasma depends upon several factors like the extent and depth of patches and clinical type i.e. epidermal, dermal or mixed. Heat, light and sun exposure also determine the outcome. The aim of the therapy is to reduce the pigmentation of patches and keep them in remission for a long time. An expert dermatologist can help you achieve appreciable results.
Melasma
*Opinions / Results may vary from person to person.
Book An Appointment
We are taking full precautions at the clinic against COVID-19. Online and Physical consultations are available to assist our patients.
Book an appointment by calling on the given numbers:
Patel Nagar: 011-47062167, +91 9716686756
Online consultation timings
Monday - Sunday : 10:00 AM to 8:00 PM
Thursday : Closed!