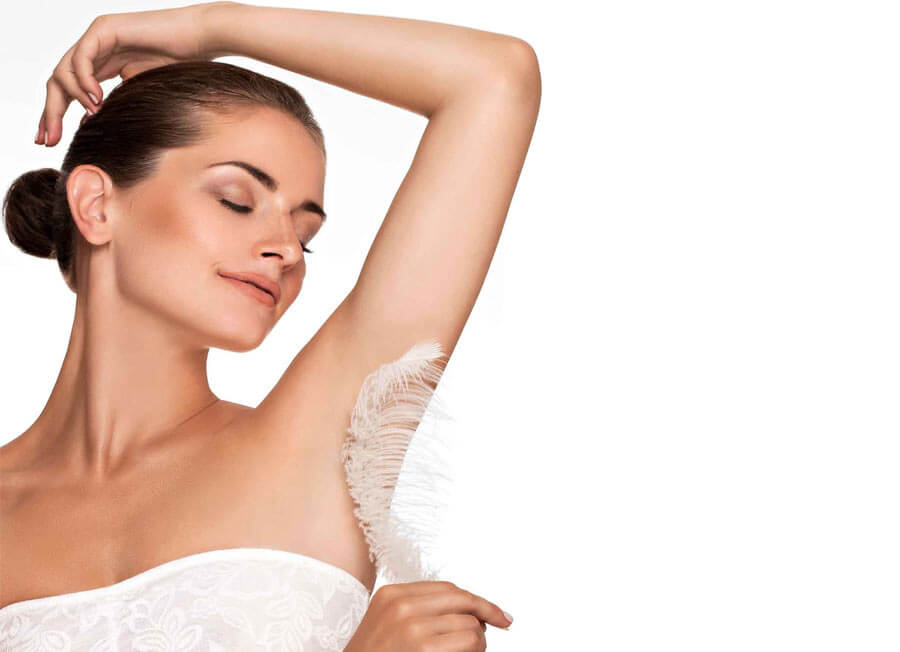 Get the best quality Permanent Laser Hair Removal in Delhi
Laser Hair Reduction Overview: Treatment, Procedure, Benefits, Cost, and FAQs
Laser hair reduction is one of the most popularly performed painless methods that use advanced lasers to remove unwanted body hair. Laser energy at a specific wavelength is targeted on the skin, which is then absorbed by the dark pigment present in the hair follicles. The laser energy inhibits the growth of hair by damaging the active cells present in the hair follicles and results in a hair-free smooth skin.
A good candidate for laser hair reduction
With advancements in technologies a broad range of lasers is available that make it possible to treat almost all kinds of hair whether thin or coarse, dark or light. The best results can be seen in people with light skin and dark colored hair.
If an individual has dark hair and dark skin tone, then the laser is adjusted according to the skin type so that it only targets the hair follicle pigment and does not cause any damage to the upper skin layer.
An individual with light blond or grey hair color is not an ideal candidate for laser treatment (as there is no pigment present in the hair to be targeted by the laser).
Benefits of laser hair reduction
Longer hair-free periods

No risk of ingrown hair

Highly effective

Quick procedure

No side-effects

No downtime

One is always ready to wear dresses or shorts with no hassles of last minute shaving or waxing
Laser Hair Reduction at Clinic Skin Essence
We use Primelase HR laser hair reduction machine which provides the most powerful method of hair removal throughout the world. This laser machine is also equipped with an advanced cooling system that helps to remove hair painlessly and manage the discomfort associated with the laser heat. This machine is three times more powerful and five times faster than other lasers. It uses maximum power to remove the hair and does not cause any damage to the skin tissue. Results are visible after the very first session. This method is quick and uses an ultrashort pulse duration of 3ms. This helps to yield quick, effective and better results.
Other benefits of Primelase HR Permanent Laser Hair Removal in Delhi
Primelase HR machine is a combination of triple wavelength (755nm, 810nm, and 1060nm). This helps to treat all kinds of skin & hair types without any limitation to a phenotype with maximum effectiveness and security.

The machine delivers laser pulses with high fluency energy, and this helps in providing greater versatility and precision.

This machine has a combination of Solid State Laser (SSL) and diode laser. This makes it flexible for use according to individual requirements.

This machine is suitable for all skin phototypes. As the laser wavelength is adjusted according to the patient hair types and skin color.

It helps to remove ingrown hair and improves the problems like hypertrichosis and folliculitis.

It has maximum power, which provides highly efficient results in minimum number of sessions.

Improved skin quality.
It is a virtually painless procedure.

Low risk of discoloration.

Safe and efficient treatment.
This treatment can be used to remove hair from the following areas of the body:
Nose, ears, and neck

Upper lip, beard, chin, and jawline

Shoulders and back

Chest and abdomen

Hands and legs

Bikini area

Back
Procedure
1. Disinfecting the area from where the hair is to be removed
2. Markings are made
3. Shaving the hair
4. Spots and freckles are covered
5. Eyes are covered with eye shields
6. Application of conductive gel
7. The device is applied over the targeted area
8. Remove gel
9. Sunscreen and antiseptic are applied to protect the skin after the treatment
Mechanism of action of lasers
Lasers use selective chromophore techniques that target dark melanin pigment present in the hair follicle. The amplified light sent by the laser that penetrates in the target area is termed as 'photo' and causes the production of heat (thermo) that enters into the skin and is absorbed by the dark pigment present in the follicles. This treatment also works on the mechanism of selective photo-thermolysis. The laser instrument allows selective laser light to enter into the hair follicles through the skin. Selective laser light aims at damaging the targeted hair follicles and not the surrounding tissues or skin. Once the laser damages the hair follicle then its tendency to grow will be stopped. About 5 to 8 sessions of lasers are recommended to achieve optimum results.
Aftercare
Don't go to the gym and also avoid performing sweat-producing activities after treatment for about 1-2 days.

The skin becomes sensitive after the laser treatment, so apply a moisturizer to ensure early healing.

Avoid applying makeup and cosmetics in the treated area for a few days.

Avoid direct sun exposure and sunbathing.

After laser treatment avoid plucking, waxing or dying the hair.

Use aloe vera gel or ice to soothe the treated skin.

Avoid using self-tanner lotions.

Don't take hot showers for about 24 hours.

Drink plenty of water.

Clean the treated area with a mild cleanser.
Frequently Asked Questions
Book An Appointment
We are taking full precautions at the clinic against COVID-19. Online and Physical consultations are available to assist our patients.
Book an appointment by calling on the given numbers:
Patel Nagar: 011-47062167, +91 9716686756
Online consultation timings
Monday - Sunday : 10:00 AM to 8:00 PM
Thursday : Closed!