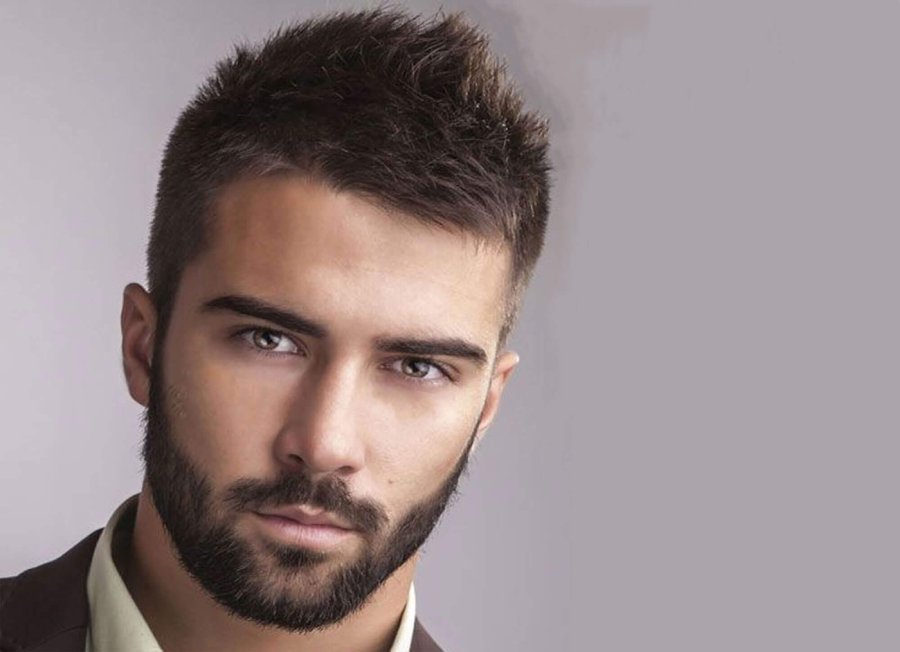 Hair Transplant
Hair Transplant Treatment in delhi
Hair Transplant Treatment Overview: Treatment, Procedure, Types, Real Results, Cost, and FAQs
A hair transplant is an advanced medical technique that helps to overcome baldness. In this procedure, the hair grafts are extracted from the donor area and are transplanted to the balding site of the scalp. The area rich in hair is called 'donor site' and the bald area is called 'recipient site'. A donor site of hair transplantation is generally the side areas and back part of the head that are rich in hair. The procedure is done under local anesthesia and the patient does not feel any pain throughout the process. The transplanted hair may take 6 to 12 months to grow into mature hair. The hair transplantation procedure has a high patient satisfaction rate as it provides natural-looking results.
Frequently Asked Questions
Book An Appointment
We are taking full precautions at the clinic against COVID-19. Online and Physical consultations are available to assist our patients.
Book an appointment by calling on the given numbers:
Patel Nagar: 011-47062167, +91 9716686756
Online consultation timings
Monday - Sunday : 10:00 AM to 8:00 PM
Thursday : Closed!
Types of hair transplantation:
1. Follicular Unit Transplantation (FUT) or strip method
In FUT the donor hair is trimmed, and a narrow strip is surgically removed using a scalpel. After the successful removal of hair, the donor site is stitched with suture. This procedure is performed under local anesthesia to manage pain during the procedure. The donor zone is usually the back or sides part of the scalp. This donor strip (or strip slivering step) is then further dissected into the individual graft or in the smaller hair follicular units. These small groups of hair follicles are then transplanted into the balding or recipient area. This treatment is best to cover large bald areas. Once there is full hair growth it helps to camouflage the scar.
Advantages of FUT:
A revolutionary technique of hair transplantation
The best option for the patient requiring more number of grafts
Maximum fullness
The procedure can be finished in one sitting and multiples hair grafts can be placed
This treatment is cost-effective
Disadvantages of FUT:
The scarring is noticeable
It takes a lot of time to heal the wound
2. Follicular Unit Extraction (FUE) or Non-strip method
FUE is one of the best hair transplant procedures throughout the world. This is the modern procedure of hair transplant. It is also known as a non-strip treatment and is less invasive. This procedure involves the removal of desired individual hair follicles instead of cutting a large scalp site. FUE does not involve big cuts, and in this treatment, cylindrical punches are used to remove the scalp skin that contains follicular hair units. 
During the FUE procedure, follicular units are separated from the scalp skin through a tiny, circular-cut made with the help of an instrument. The cylindrical instrument is used to pick out the follicle unit from the cut. Small cuts or holes are made in the recipient site (bald areas) through a fine pointed instrument before transplantation of hair follicles. Then follicle units are transplanted into such bald areas where they will grow naturally into mature hair. The small holes formed during FUE treatment take less time for healing without any scar formation. This procedure takes about 3 to 5 hours to complete.
Advantages of FUE:
It involves less recovery time
The procedure does not require any stitches
FUE treatment is less invasive than FUT treatment
The surgeon can transplant several hair grafts in one session
Best choice for people who do not want noticeable scars
Disadvantages of FUE:
Ideal candidates for hair transplantation
It is the only permanent solution for baldness and hair loss
The patient must have realistic expectations with the procedure
There must be a finite amount of donor hair available
Men and women who have lost hair due to injury or trauma 
This technique is suitable for men who are suffering from Male Pattern Baldness (MPB) caused by genetic hair loss. MPB is the most common form of baldness. The males suffering from MPB suffer from hair loss from the top area of the scalp or receding hairlines. In spite of these conditions healthy hair is present at the back and sides of the head of those males suffering from MPD, so hair transplant can be done to restore hair growth.  
Who is not an ideal candidate for hair transplantation?
Hair transplant is not suggested for people who have Diffuse Unpatterned Alopecia (unhealthy donor supply)
Those who have low hair density
After FUT/FUE treatment
The bandage should not be removed while going to bed
The patient should elevate their head while sleeping
The bandages should be removed carefully before taking a shower (as directed by the surgeon)
Gentle washing of the scalp should be followed at least for two days (as directed by the surgeon)
The patient is also advised to protect the scalp from direct sunlight, eat a healthy diet, and drink plenty of water
Hair Transplant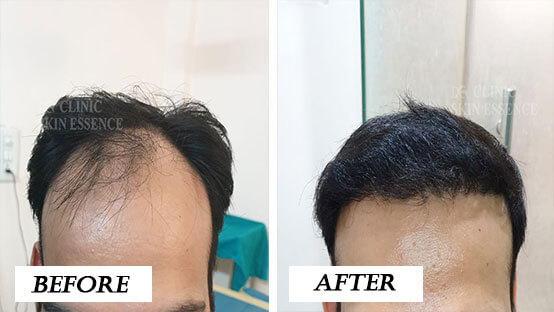 *Opinions / Results may vary from person to person.
Hair Transplant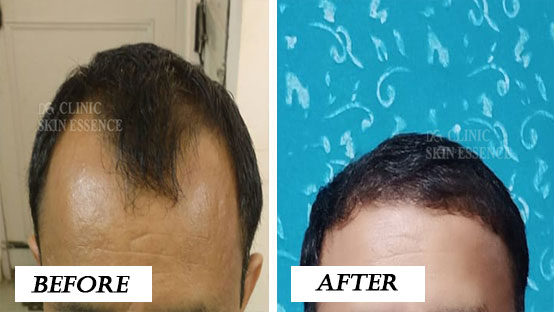 *Opinions / Results may vary from person to person.