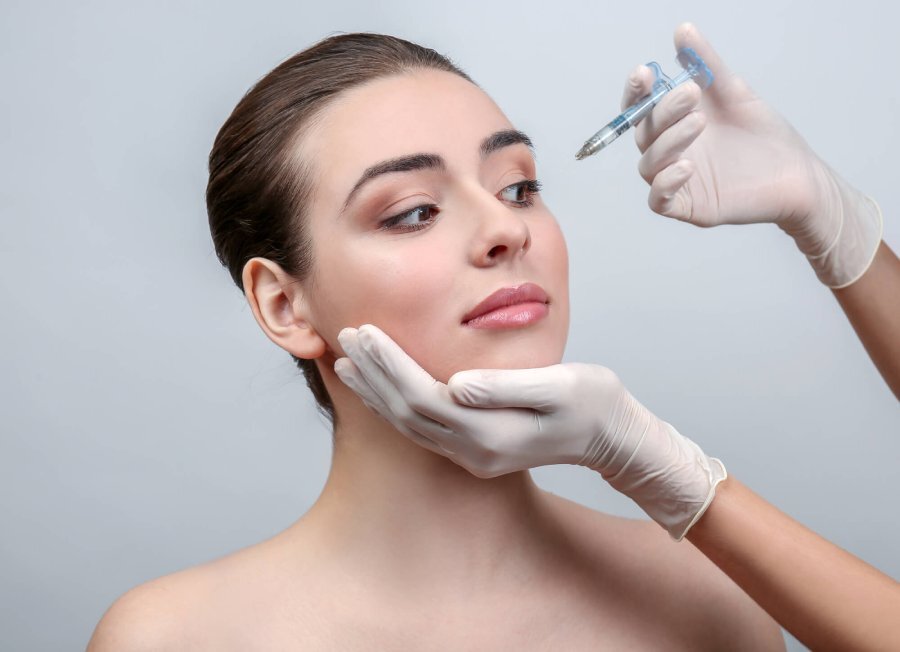 Anti Wrinkle Injections
Anti Aging Treatment in Delhi
Anti Wrinkle Injections Overview: Treatment, Procedure, Types, Criteria, Benefits, Cost, Aftercare and FAQs
Underlying muscles of the face expand and contract every time we make an expression such as smile, therefore the appearance as dynamic wrinkles on the face. With time these dynamic wrinkles and fine lines become static due to repeated expressions. 
These lines & wrinkles become even more prominent with age due to fat loss, and the breakdown of skin protein collagen and elastin. Other factors that cause aging lines and wrinkles to appear on the face include sun damage, poor diet, smoking, hormonal imbalance, and unavoidable external environmental factors.
A simple anti-wrinkle injection is useful to relax the facial muscles, diminish the existing wrinkles and prevent the occurrence of new ones. This treatment is a popular cosmetic method to enhance the appearance of the face. During this treatment, a natural protein is injected into the target areas, and that mainly treats lines around the forehead and eyes. It is also effective in diminishing the appearance of aging lines near the nose and mouth. This treatment is very much popular nowadays because it offers the same benefits, just like various other surgical facelifts. It is a minimally invasive solution to get a smoother and youthful-looking face. This treatment can also be repeated in the future to gain its prolonged benefits.
The protein that is injected attaches itself to the nerve endings and blocks the release of the neurotransmitter acetylcholine, which is responsible for causing facial muscle contractions. After injecting the injectable protein, the facial muscles relax and the wrinkles and aging lines are smoothened.
Frequently Asked Questions
Book An Appointment
Clinic Timings
East Patel Nagar
Monday :

10 AM - 2 PM

4 PM - 9 PM

Tues & Wed :

10 AM - 2 PM

4 PM - 9 PM

Fri & Sat :

10 AM - 2 PM

4 PM - 9 PM

Sunday :

10 AM - 2 PM

4 PM - 9 PM
Dwarka
Mon to Wed :

10 AM - 2 PM

4 PM - 9 PM

Friday :

10 AM - 2 PM

4 PM - 9 PM

Saturday :

11:30 AM - 2 PM

4 PM - 8 PM

Sunday :

10 AM - 2 PM

4 PM - 8 PM
Anti-wrinkle injections are effective in correcting the following skin concerns:
Neck bands

Fine lines

Crow's feet

Laugh lines

Frown lines

Droopy or asymmetrical eyebrows

Heavy forehead furrows

Fine lines above the lip (smoker's lips)
Benefits of anti-wrinkle injections
A minimally invasive and quick method

Helps restore facial balance and youthfulness

Diminishes and prevents fine lines & wrinkles

No pain

No downtime

Instant result
Who is an ideal candidate for anti-wrinkle injections?
People who are physically healthy and have realistic expectations from the procedure

People who want to reduce the appearance of forehead lines, frown lines or wrinkles around their eyes

People who do not have a history of neuromuscular diseases

People who are at least 18 years old or above
Procedure
1. The area is cleaned, and markings are made at the target site
2. The area is numbed using an anesthetic or numbing cream
3. The anti-wrinkle protein is injected into the skin with the help of microinjection and proper injection technique
4. Then the ice pack is applied to soothe out the treated area
Aftercare
Avoid rubbing, scratching and touching after treatment

Avoid sun exposure and extreme heat or cold for about one week after treatment

Do not massage the area for about 2-4 days after the treatment

Do not consume alcohol for 1-2 weeks after the treatment

Avoid heavy exercise for about 24 hours

Ice packs should be applied to the treated facial area to manage discomfort